This week at Out of the Blue - 5th July 2019
Posted on
This week at Out of the Blue
5th July 2019
The sun has been out this week in Totnes with lots of visitors visiting our lovely town and shop.
Tricia Easter visits Out of the Blue
Here at Out of the Blue we started our week with a visit from one of our lovely agents, Trisha Easter who covers The Little Dog Laughed company and WPL Gifts.
We were lucky enough to get a first glimpse at the new Little Dog 2020 Diaries and Calendars, which we have pre-ordered and should be with us at the end of August. We will let you know as soon as they have arrived! As well as the 2020 stationery the Little Dog have brought out some gorgeous new card designs, which have just been delivered to Out of the Blue. All these cards are £2.25 each and are available in store now!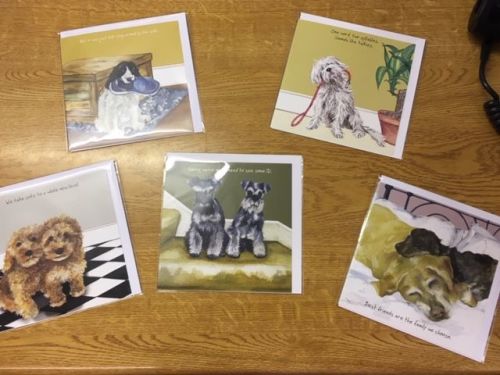 WPL have come up with some brilliant new seaside theme keyrings, which are now available and are a good solid weight too. With this delivery we now have some of their bestselling cushions back in stock and the beautiful inside out mugs including one that always makes us chuckle!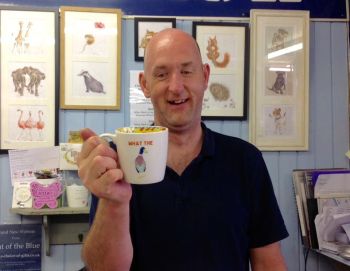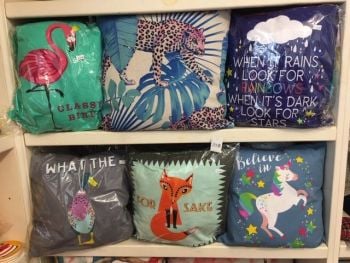 Wrenale Designs 2020 Slim Diary
One of the items that we were most excited about arriving this week was the Wrendale Designs 2020 Slim Diary. John and I had great fun studying this product and it is definitely a must have to keep you organised in 2020. Please click here for more information including lots of photos.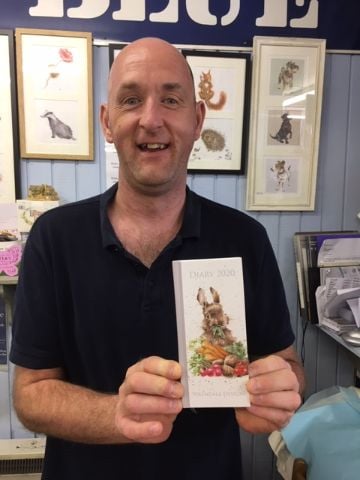 Did you know that we sell Cornishware?
Legend has it that these colours reminded an employee of the blue skies and white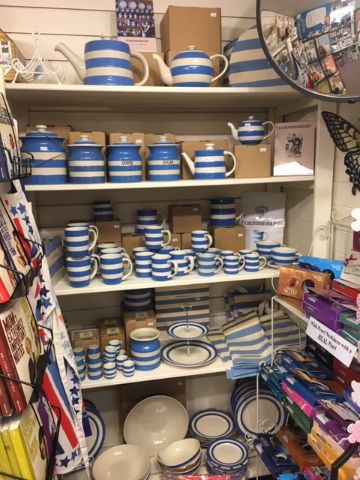 crested waves of Cornwall, which is how it earned it's name.
The iconic blue and white stripe design have appeared in generations of children's books, fashion magazines and adverts and it was nominated as one of the top 20th century design icons.
Having had to move their production operation over to China some years ago, this stunning range is gradually being brought back home and to being made in the UK, which we are really excited about!
We have a large range of the Blue and White Striped Cornishware in Out of the Blue and you can shop a selection of our items by clicking here.
If you have any questions or need further information then please do not hesitate to contact us on 01803 866009 or use our Contact Us page.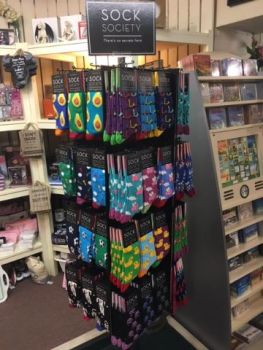 If you are looking for a quirky and fun gift then a pair of Sock Society Socks are just the ticket!
Coming in a range of themed designs these are the socks to show off your personality and be true to yourself. One size fits all and with our latest delivery having just arrived it is the perfect time to find your ideal pair of socks.
There are musical notes, flying pigs, skulls, bbq themed to name but a few and are light to send if the need arises.
A useful present for that someone special! Click here to see more of the designs available.
More New Autumn/Winter Brochures
Now that July is here the new Autumn/Winter Brochures from our suppliers and arriving thick and fast!
Wrendale Designs have truly outdone themselves with lots of new amazing products including water bottles, satchels and a Hedgehog House. We can't wait to place our order and look forward to receiving these lovely items.
We were also lucky to receive our new brochure from Peter Pauper Press who provide us with our stunning journals and our bestselling password books. As we have just received this brochure I look forward to sitting down with a cup of tea and a biscuit to look through and see what gorgeous new products and designs await!
To be one of the first to hear about new products and delivery please follow us on Facebook and Twitter and keep checking back here on our blog for all the latest news!